CENTREVILLE HISTORY
The exerpts written out below are from a small booklet entitled,
"St. Joseph County Historical Review and Business Guide"
written and compiled by Roy D. F. Sowers, Historian. If you have
an interest in other St. Joseph County histories, click here to go
to a chart listing the other available histories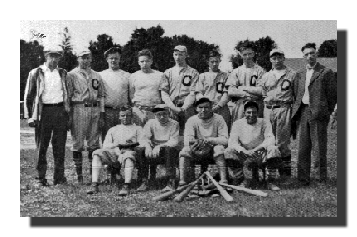 St. Joseph County Champions for 1929
The Centreville High School
1929 Ball Team
From left to right in no particular order Catcher-Raymond BROWN, Pitcher-Kenneth BUCKNELL, First Base-Wendell PERSONS, Second Base-Frank JONES, Third Base-Rex O. BECKWITH, Short Stop-Raymond GREENBERG, Left Field-William CUTLER, Center Field-Leon BARNES,Right Field-Stanley DILLON, Reserves-Donald REED, Howard HARBESON, George LONDICK and DeVerne CLARK.

John W. TALBOT and George TALBOT located here in business. Henry C. CAMPBELL, Calvin H. STARR, C. D. BENNETT and and J. W. SPITZER were early merchants.
The first brick house was built by Walter G. STEPHENS who was the first County jailer. In 1847 GIBBS, DILLE, and GURNSEYbuilt a pottery ware factory. The first dance was held in 1836 by Isaac D. TOLL.
The first school was taught in 1832 in the court house by Mrs. HARTLEY. R. LAMB taught the first school established in a school building in 1841. The early teachers received the munificient sum of $2.00 per week. Various church and lodges began to form.
July 4, 1837, was a memorial event. The local fife and drum corps led by a "fiddle", paraded. Speeches were made and much jolification.
The first cemetery was donated to the village in 1838, "if the people would erect a picket fence around the place."
In 1873 the first bank was formed and the Centreville Knit Goods Manufacturing Co. was organized. Also a Fruit Preserving Co.
A post office was established in 1833. The first highway was built from the Branch county line in 1832. Next the old angling road was blazed Constantine by Robert CLARK, Jr., and Capt. Alvin CALHOON.
Dr. S. W. TRUESDELL was the first physician.
In 1870-1 the Michigan Central Air Line was built receiving a gift $25,000 from the people.
A young Irishman by the name of OSBORN came to Centreville and became a "wood chopper." Showing some sketches he had made of the local scenery, his ability as an artist was recognized and he started an "art school."
In 1833 the population was 100 and the first meeting of the board of supevisors was held.
Some of the findings by the early juries were very humorous. We regret that space will not permit the telling of many interesting stories.
No community was more patriotic during the Civil War than Centreville.
Today it is the busy little county seat to which most of the county's population must travel at various times.

[top of page]
Return to St. Joseph Co., MI USGenWeb Page
This page was created 26 December 1996 and updated on 15 Feb 1998
Design and updates of this page are by Denise Frederick , Copyright © 1997
This Page Has Been Visited 21 times plus

.......since 26 Dec 1996