NOTTAWA HISTORY
The exerpts written out below are from a small booklet entitled,
"St. Joseph County Historical Review and Business Guide"
written and compiled by Roy D. F. Sowers, Historian. If you have
an interest in other St. Joseph County histories, click here to go
to a chart listing the other available histories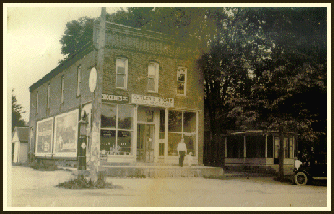 Cutler's General Store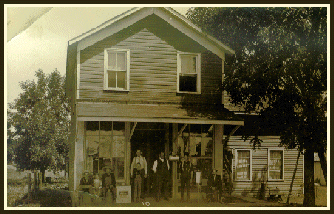 W. R. Frary General Merchandise
Can anyone identify about what year these pictures are from?

A very nice man by the name of Cal Wagner emailed and identified the pictures for me on Friday, 25 April 1997. The Cutler's Store picture is c1920's to 1950's and burned down around the 1950's or so. The Frary's store picture (across the street from the Cutler Store) is from around the same time frame. Thank you, Cal, for sending me this information.
Now, can anyone identify who's in the pictures?

Nottawa was laid out in 1832 but before this period many settlers had located here waiting the two year Indian treaty to end so they could have first choice of the Indians' Nottawaseepe reservation. Judge CONNOR was one of the first to locate here.
The first crime against a white settler happened here. Someone stole the money Judge CONNOR had saved to pay his expenses to the land office at Monroe, Michigan. The land payment had been sent on to Ypsilanti and the thieves were disappointed in this.
The land around Nottawa prairie is very rich and raises fine crops. Today the community is served by a Hotel, Post Office, CUTLER's General Store, WOLFRON's store, and Bill POST's Service Station. The old G. R. & I. ice storage has been torn down and the Nottawa station is closed up. The automobile has caused a large part of this.
Beautiful Sand Lake is on the southern edge of the village and has many cottages surrounding it.
Judge John STURGIS, Henry POST, Henry POWERS and John W. FLETCHER were some of the first settlers. Corn, potatoes, oats and wheat were the first crops grown.
The first celebration was on Christmas in 1876 at Jack ENGLE's house when the entire population of Nottawa attended.

Return to: St. Joseph Co., MI USGenWeb Homepage
Return to: St. Joseph County Histories Index Page
[top of page]
This page was updated 5 Mar 2001
Design and updates of this page are by Denise Frederick , Copyright © 1997-2001
This Page Has Been Visited

times since 26 Dec 1996