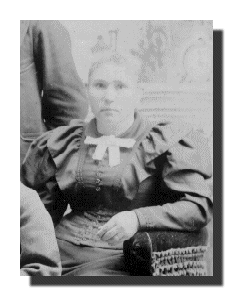 The Diary of
Mary E.(HEIFNER) BECKWITH

Foreward written by Mrs. Irwin L. MERRY
Mary E. BECKWITH was born in Ashland Township, Ashland County, Ohio on 31 January 1844. She married Pembroke Somerset BECKWITH on 3 Sep 1868 and lived the rest of her life in Nottawa Township, St. Joseph County, Michigan. She died on 21 Sep 1906. Nearly fifty years after her death, the diaries came into the possession of her grandson, Irwin L. MERRY. It has been a privilage and a pleasure for him and his wife to discover the drama revealed in the little booklets. From which we offer these vital statistics gleaned from the penciled pages, in hopes they may be of help to a researcher in locating kith or kin. Anyone fortunate enough to read through the pages, one after another, will find himself sitting beside old friends,

on uncushioned benches, attending church services and school entertainments alike, with many friendly hours spent neighboring, driving over the miles between firm capable hands clutching guiding reins of the faithful sorrel, dapple, chestnut or roan, as they quietly plod the ever deepening sand.

2nd Foreward written by Denise Frederick

It is now, 20 Sep 1997, nearly 91 years after her death, this information has come into the possession of Mary's GreatGrand-daughter, Denise E. (BECKWITH) FREDERICK. It is with great pleasure that I transcribe this information to be included on the St. Joseph County, MI USGenWeb website. I truly hope that some interesting information can be found by you, the researcher, from reading these words.

Go to the listing of the - Births | Go to the listing of the - Marriages | Go to the listing of the - Deaths and Buriels


[top of page]
Go to: St Joseph Co., MI USGenWeb homepage
Visit Denise's: Home-Sweet-Home page
This page was created 20 Sep 1997 and updated 10 Aug 2002
Design and updates of this page are by Denise Frederick, Copyright © 1997-2002
This Page Has Been Visited

times....since since 20 Sep 1997