Autobiography of Mrs. Otis McGaffey, Sr.
Luling, Caldwell County, Texas, 1895
Part 1

Sketches from the life of Mary Tomb McCollister, who was born March 4th, 1822, in the town of Salem, Washington County, New York, where she resided the first ten years of her life.
Her parents names were Charles and Jerusha McCollister, her father a well-to-do farmer, her mother an industrious, thrifty housewife.  Unto them were born seven children, four sons: Hamilton, Thomas, Charles and John; three daughters:  Delia, Sarah Dick and Mary Tomb  (We didn't like our middles names so when asked for our address when young ladies, gave them to a young gentleman as Sarah Emily and Mary Jane, for fun, and always after were known by them), of these only two are living, Sarah D. who has been twice married having two children only by her first husband, Andrew and Lydia McLean, and Mary T. who is now Mrs. Otis McGaffey, Sen., who is now 73 years old, and Mrs. Sarah Harper 75.
Unto Mrs. Otis McGaffey, nine children were born, 4 sons: John Wyatt, Charles first, Charles Neal, and Otis, and 5 daughters:  Mary Jane, Sarah Emily, Delia Frances, Amelia, and Ella; of these five only Mary Jane the eldest is left of them.  After this introduction I will speak of myself and our families as thoughts present themselves to my mind hoping all who read will remember that I am an invalid 75 years of age and having many infirmities of body and mind.
I must tell you about our fine orchard of apples, plums and cherries in New York, our fruits, currants, gooseberries, red and black raspberries, strawberries and blackberries.  My father and my brothers cultivated the farm and thereby made the family a splendid living.  My mother was a stirring woman, doing the work for the family most of the time until the children were old enough to help, and besides this, spun and wove new linen for sheets, pillowslips, towels and tablecloths, her own woolen cloth, coverlets, counterpanes, and carpets, some of which were beautiful as well as useful.  As she grew older and became feeble, she had taught all three daughters to cook so we could relieve her, she was never idle but taught us to do for ourselves and others.  We were sent to school one half mile from home to very strict teachers who compelled us to learn and say our lessons to them, for at home we had to work, getting up severe cold mornings in winter, Sister Sarah and I at 3 o'clock A. M. (being waked by the schoolmaster rapping on our door) and do the family's washing by half past eight so as to get to school in time.  We were both quite young but very ambitious and a little praise from "mother" went a long ways, we did the work and felt we were doing great things whereof to be proud.  When older we attended school at the Academy in town and had no time for such diversion.
Well do I remember the Locust trees with their fragrant white blossoms which grew on either side of the lane or road we travelled in going to school, our dear old home and nice lunch on arriving there.  Those school days were mostly happy ones, for we would sometimes forget the rules and get punished.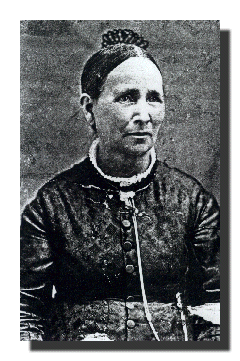 Mary Tomb McCollister

I remember too the house, its rooms, its furniture, even to the shades at the windows the old brick dutch oven outdoors in which Mother baked all manner of good things to eat, Lightbread, biscuit, rolls, pork and beans, pumpkin and rich mince pies and puddings of which we were very fond.  Our playhouses, one upon a hill in the woods just above our house in our own field where we gathered chestnuts from the trees while standing on a large rock, then wintergeen berries and cheqerberries and moss for carpet to our playhouse in woods where we set a table for Sister Sarah and I made our dinners off of chestnuts and berries and then run home so as to be there when told to come.  On the opposite side of the house and on lower land we had out other playhouse in a peppermint yard on the bank of a little brook running through the yard and which turned our churning machine by letting the water off from the dam when we wished to churn.  Mother kept the milk in a milkhouse on this brook, and Sarah who was a great climber, got up to the top of the room and fell all the way down cutting a large gash in her chin, the scar of which she carries until this day.

When the wind blew hard we would climb a hill, turn our hair loose and run fast as we could to see it flying in the wind, and we enjoyed it very much. Sometimes our cousin Catherine Mc who was about our age, visited us and Sarah who was always first in mischief persuaded us to go with her to the barn to see, and catch some little young pigs which we all did putting them in our aprons and running with the old sow after us, we dropped them as we ran so we could run the faster and escaped her tushes, but bear in mind we learned a lifetime lesson, never to meddle with the young without the Old's consent.  Again we three had bonnets to wear to church alike except the lining, buff colored scoop shovel bonnets, sister's and mine being lined with pink silk and cousin's with dark brown checked silk.  We often visited each other having a good time, and when Grandfather McCollister came to visit us he would bring us ginger cakes in his pockets, and we would eat and eat and ask for more until he would turn his pockets inside out to convince us he had no more, and because we enjoyed them so much, I always

in later years tried to have some for my children and grandchildren in particular and loved very much to see them happy over them.  I have taken a long jump from childhood to old age or second childhood, but such is life and a short memory.  My father used to tell me when Mother was sick he would walk me at night and show me the moon to please and quiet me. Sometimes I think I may have been moonstruck.

When about eight years old, my sister Sarah, self and young brother were invited to a neighbor's to supper, so mother drilled us telling us what to say and do, to be polite, so at table when asked if I would like some sausage, I answered, No, I thank you, if you please, and my sister and brother who were older and knew better teased me long and often telling my mother about my over politeness.

When about ten years old my father sold his farm and started out with his family for Michigan passing through some very interesting and exciting episodes on the way.  Our first day's journey brought us to Troy, about 40 miles from Salem, travelling by wagons, Uncle Willie McCollister driving one team and brother another.  Next morning when ready to start on Uncle came to bid us farewell, he dropped some lemons into Mother's lap, saying here Jerusha, choking with emotion and tears coursing down his cheeks, Good-bye, good-bye realizing it was a long and last farewell, my mother was so overcome she could not speak, and thus forever in this world separated, one travelling one way, one the other.  We looked on and wondered, but could enter into the anguish of the parting.  At Troy, as well as I can remember, we took a canal towboat (there being very few railroads 63 years ago) and travelled across New York State to Lake Erie, where we took steamboat, and landed at or near Detroit, the capitol at that time.  While crossing Lake Erie all were very seasick (as the waters were rough and we unaccustomed to them), so father says he took me on deck, and I said to him, Oh! Father how sick I am, and commenced vomiting causing him to be very sick but this was not the worst feature for at night our boat took fire and the men had to work very hard and fast to keep her from burning and sinking us all in Lake Erie.  It was a fearful time but the scare cured our seasickness, and our lives were saved by the goodness of God, who controls the winds and the waves.  There were three families travelling with us to Michigan, and when we stopt at Detroit (a young man had joined our party on the way) which caused a very amusing incident.  Stopping at a hotel a clerk in showing us our rooms had one prepared for this young man and my eldest sister Delia (who had apparently made his acquaintance) he tried to show them to a certain room, taking them to be a young married couple but sister objected and other arrangements were made, depend upon it we carried our sister high about the mistake for years afterward until she did marry and settled in the town of White Pigeon, Michigan.

From Detroit, we travelled by land in an open wagon and stage.  One day Sarah and self got out of the wagon to walk a ways and gather flowers, first we know the wagon was ahead and a wide ditch between us and it but we jumped it and caught up with the wagon but watched closer the next time.  I must pass over much of our trip as it would weary me and my readers.  We travelled on one of my brothers was taken very ill and father and mother were compelled to stop with him overtaking us the next day.

We were all exceeding glad to reach White Pigeon, St. Joseph Co., Mich, which was the place of our destination.  Here father rented a house, bought a farm three and a half miles from town and soon had a house built so we could have a home once more and settle down, being tired from our long adventurous journey.  We found the land rich and very productive and were soon good livers again.

Soon after father made arrangements to send Sarah and I to town to attend school at the Seminary boarding us at our sister Delia's, she having other boarders, among them Otis McGaffey son of an eminent lawyer was to be found attending the Seminary also.  Here we became better acquainted reciting our lessons in the same class at times and at sister's at our meals, until there was some courting done and as time rolled on an engagement ring was placed on my finger.  Winter times we would attend sleighrides and parties together (of course making some talk) as we were youthful and attending school.  Before school closed we visited my father's family one evening inviting a young lawyer and his lady to accompany us.  Somehow this gave the impression at school that we were going to be married by the Esq. that night, and so they got up an old fashioned Chivalree and came three and a half miles out in the country showing us they could not be so easy fooled, that if not invited guests, they could and would furnish the music, but they had their labor for their pains, as both were at school next day, where our teacher said they did not how to address me, mine ventured to call me Mrs. McGaffey and I let it go so, as there was a party given at Otis' father's house next night after our visit which would be termed the Infair party, so to humor the joke farther I dressed like a bride and blinded the folks again, permitting them to address me as Mrs. McGaffey. After enjoying the joke very much, we returned next morning to school, to convince the folks we were not married, which was hard for them to believe. But, there is an end to all things and soon after our school days ended, and Otis with his father started for Texas where he was gone a year and a half.  At the same time I was teaching school on Indian prairie.

While gone I was teased my some of my lady friends, saying that would be the last I would see of him, for he would fall in love with some Texas girl and marry her.  My reply was, if he's that kind of a man I hope he will. So they let me rest until his return and we were married May 18, 1841, at home, by an old Presbyterian preacher who gave Otis his charge that he must get up first, make the fire and put on the kettle, also provide plenty of firewood, which I am proud to say he has carried out well as I have never had to make fires, cut kindling wood, or bring in wood, unless I chose to. When we married, we expected to move to Texas soon, so we gave a large wedding entertainment inviting one hundred guests that we might see a good share of our young friends before our departure, but we were not dishonored with a chilvalree both being young and inviting so many of our friends we were not disturbed by this outlandish practice.  Our sister Delia gave us an infair party and we rented a nice little cottage into which we moved very soon and went to housekeeping, as happy as I presume as most of people get to be.

My good mother doing her duty by me had learned me to cook well, so I had no sour biscuit to throw out, nor tears to shed because I did not know how to cook and keep house.  I knew how to sew to make shirts and dresses also to knit socks and stockings, having nearly a pillow slip full for self when married (as that was an old custom) also to darn to mend and cut and make my own clothes, and for others, to piece fancy quilts and afterward to embroider and knit insertion and lace edging, all of which I found very useful as well as ornamental.

Business detained us, during which time another member was added to our family, May 4, 1842, a sweet tiny babe, whom we called Mary Jane, so we did not leave Michigan until the next year, starting our journey toward Texas when our babe was only six weeks old, and visiting our relatives in Michigan City, Indiana, Illinois and Iowa, stopping several weeks at each place that Mother and babe might not get too fatigued with the long, long journey.  For ten weeks we spent a very pleasant and bracing time with our Aunts, Uncles and cousins, also our sister Sarah at Michigan City, some of whom we had never seen, but nearly all helped me by caring for my wee baby and one old Aunt Rachel whom I loved, would take her and rock her to sleep on her bosom tilting her back and forth, sitting in a kitchen split-bottomed chair, although well-to-do and splendid livers, did not have a rocker in the house.  At night she would make a bowl of catnip tea for us that we might get good sleep.

There is and end to all things, our visits ended we started from Sarah's home where Father and Mother had visited with us for a week, bid all good-bye, got into a double team wagon with our household goods, and started in earnest for Texas our future home.  I shed a few tears after parting with dearly loved ones (although I left them with a smile, trying to hold out brave, but the tears would come, as I believed it was farewell to Father and Mother forever, as it proved to be, but Sister Sarah still lives, and we visited her about 25 years since with our youngest son Otis 12 years old.  Now we will start for Texas again, the day was pleasant being about the first day of September, all went well until we came to the Hotel where we expected to stop at night, it was crowded and we undertook to go three miles farther to another house.  When about a mile from the hotel, we drove into a boghole in which our horses sank until their heads and backs were all we could see of them, it being nearly dark and we in a strange land and among strangers.  I got out of the back end of the wagon over boxes and other goods with babe in my arms so Mr. McG. Could help me out, but what to do we did not know.  While wondering what was to become of us and our helpless babe, we heard the sound of a wagon coming toward us, a man was driving, my husband plead with him to take me to the hotel, and come back with his team and help him out with his own.  He would note hear him, said he was in a hurry, and was about to start, when with my wee babe in my arms, and tears in my eyes, I begged him in the name of humanity, do not pass us by but give us assistance, this he could not resist and took myself and babe to the hotel, promising to go back and help my husband out of his great dilemma.  He after securing a room for me upstairs, started back, but I was so tired, so frightened and so worried for fear he would go back and murder my husband and take team and all (knowing we could not travel without money) that when I went to take off my wraps, and lay my babe down of the sofa, going to the other side of the room, I heard my babe roll off on to the floor, I was so thoroughly frightened believing she was dead, I could scarcely take her up, but she was not much hurt.  By this time, I became so nervous, fearing the worst for my husband, and being in a strange place with my babe, without a friend or acquaintance, or a cent of money, I thought- what should I do? And if he did not return, would these strangers believe my story, as things looked very suspicious.  After my fears and imagination were wrought up to so great a pitch, my husband came, and I was rejoiced to see him you may rest assured.  If my memory is not treacherous, we stopped at Peoria, Ill., from thence we made our way to the Mississippi River by land, stopping at St. Louis one week, from thence down the Mississippi River by steamboat, until we reached Red River, then up the river by steamboat.  The first night one of our horses took sick, and the boat had to stop so they could take the horses ashore so as to doctor the sick one, leaving me on the boat for two hours by myself among strangers and rough looking men at that.  The good Lord protected me, and I was glad when daylight came to see husband and horses coming aboard.  We proceeded on and I think landed in due time at Alexandria, from thence we again travelled by land stopping where night overtook us, and one night were compelled to stop at a negro cabin occupied by some half dozen negro men who gave us a cot bedstead to sleep on.  My husband was so fatigued he soon fell asleep but I was afraid to sleep as the negroes staid in the room and walked around our bed, I expecting every moment we should be murdered and robbed, but the Lord cared for us, and we lived through the miserable night, to start on our journey next morn, to be hailed soon in the morning by a man on horseback, saying a tiger cat was chasing him and he wanted help to kill him.  Mr. McG went with our large dog back with him, but he was about to kill the dog, when he shot the tiger cat dead.  The man was very thankful for this and we parted continuing our journey until we reached Jasper where we stopped for dinner, after a long time we were notified that dinner was ready, we sat down to eat as we were hungry, but as the dinner all told consisted of a large pan of sour clabber, which I had never seen used only for hogs and chickens, and large sweet potatoes of which I had never eaten, and I don't remember that they had bread, even, I chose to pass it by and fast till we reached our destination Bevilpost. Arriving at Father McGaffey's house at nearly sundown, finding them turned out of doors, as they had been cleaning house, not expecting us quite so soon, I was very hungry and they hurried up and got the best supper they could consisting of mush and milk, sage tea and cornbread.  This was our introduction to our home with Father McGaffey's family who lived in a smoked black log cabin with only two rooms and a hole for a window, but nary a window was there.  Two young men boarders occupied the bedroom, and we shared the old folks room.  Oh! I thought and felt, what a beginning. If life permits I will carry you on close to the end.

You may depend on it I was homesick, about three thousand miles from home, and all strangers but the family of four persons, Father, Mother, Son and young daughter.  I was very much fatigued but soon saw that the family did their own work, and tried to lend a helping hand, but as they cooked on a fireplace, and I was not accustomed to it, I did not cook much, but helped about the other work, doing our own washing and ironing.  Although our neighbors owned more negroes than they had use for, yet we had spent nearly all our money on our long journey, and as the old folks had none, we could not hire, therefore it was, "Root hog or die, root hog and die."  They had a few cows, hogs and chickens, but no flour, coffee, tea or sugar, as there was no money to buy with, using cornmeal for bread, roasted rye for coffee, sage and sassafras for tea, and making sweet out of melons, as well as preserves which were made by cooking down a lot of melons to juice and slicing more melons and cooking them in this juice to the right consistency, although dark looking, they tasted very nice, as we were so starved for sweet.  Very soon the boarders left, and we occupied the shed room with board floor under our bedstead, and earth for the balance, and no window.  This was 50 years since and I write my experience or a part of it for those who are doing very well, but complain of hard times, and think they are realizing them today in 1895, who do not know the meaning of Hard Times.

Well, we all worked on, Father and Otis trying to farm it (which they knew nothing about), Father having been a lawyer and Otis a clerk in store but they made slow progress and none of us were earning a cent of money although in sore need of some.  So I determined to get up a school, which I did, in an old log cabin quarter of a mile from home and through the woods, leaving my only child in her Grandma's car, and teaching young ladies to read in their spelling books, though I had more advanced scholars.  Thus I earned enough money to send off and purchase flour, coffee, tea, sugar and some clothing of which I was exceedingly glad, for I was very hungry for some flour bread and sweet cake also tea and coffee, but I learned to like sage and sassafras tea.  I taught six months and liked it, rested six months, then at the peoples earnest request, I took my four months old babe, Sarah Emily, to school and set in for another term.  She was very good and sat or laid on the floor during school hours, or was attended by Mr. Mc's little sister Julia.  This gave us a start and we converted the school house into a dwelling and moved ourselves and little family in, where we just made what we lived on and no more.

I made every garment the children wore even to their bonnets, caps, stockings and shoes, or little buckskin moccasins, embroidering them with bright colored silks, knit their stockings, edgings and insertions, did all my own work and had time for recreation.

Our cabin had cracks in, not chinked, that a man could put his arm through, we had no fastenings on the door or windows, and at the time of the nigger insurrection, Mr. Mc would go out fire hunting at night for two or three hours leaving me alone with my helpless babes, when it was no unusual thing for a man to ride up to the fence, call a man out and shoot him down at his own door.  I lived through those fearful times and hope we may (never) have another such.

Soon after this, Father McGaffey moved with his family to Sabine Pass, and urged us to come, as we could do so much better, he came back to help us move so we sold out.  About that time our third daughter Delia Frances was born, and when four weeks old, we packed up and started by wagon to Weiss Bluff where Father had a very large skiff awaiting us.  Here we stopt several days, they being old acquaintances.  Mrs. Weiss had young twin babies, Mark and Willie, who now have children of their own married (how time flies), When rested Father and Otis put our effects and us into the big skiff and we started down the Natchez river again headed for Sabine, the places we passed and stopt over night at, are a little mixed, but we stopt for the night at one place where they dressed and sold fish, having fish for supper; at another, upon a hill, another at Pulcifer's Island at the head of Sabine Lake.  I sitting in my chair with my babe on one arm and holding on to the other two, fearing they would fall in the lake and be drowned, all went smoothly for awhile but soon it began to cloud up and the wind to blow while large porpoises rolled in close to us and past us, when our men folks began to cover our heads with tarpoleans so we should not see them, but I told them to take it away, if I went to the bottom, I wanted to see, anyway.  Soon the wind and rain ceased and about sundown we landed at old Sabine Pass with tears in our eyes, as the mosquitoes were about to devour us.  The lady where we stopt for the night, kindly brushed them off of us, gave us water to bathe our faces and hands in, and then invited us into her Mosquito house which was proof against them.  We went to bed after supper, had a good sleep and awoke next morning early to prepare to move into a rented warehouse close by here and commence housekeeping.  Two requisites were missing, wood and water, as we had no wood, and the water salt in the pass.  Not knowing that salt water would not wash, I was about to commence washing when a neighbor told me it would ruin my clothes, of neighbors we had only three only as that was all that lived in town.

Our men folks had to leave us alone in that old warehouse go across lake and up the river a ways to get fresh water.  While gone we were compelled to use water from a mud hole, and I used to shut my eyes and drink a little, as I was nearly famished for some good water.  They then went back for their stock and I staid by myself with my three babies (excepting Mr. Mc's little sister about seven years old) without fastenings on the doors and would get thoroughly scared (as there was no man living near to call on for assistance) when the little sailboats that might have stopt at this warehouse when vacant, passed by for fear they would not know it was occupied, might try to land there.  For six weeks our men folks were absent and I lived through it, did my work and was obliged before sundown to take my young babe in my arms, sit down in my large rocking chair, help first one and then the other to climb up on the arms of the chair, after undressing them and putting on their nightslips and rock the three until they fell asleep; putting the first one that slept under the bar which I had previously tucked in snug, then the next, and the last one tucking the bar each time as the mosquitoes were swarming after sundown.  As I could not stay outside the bar, I went to bed too, sleeping with one eye open, as I had these helpless little babes to shield and protect from harm.

I had forgotten to mention what one neighbor, a gentleman told me about mosquitoes at the Pass, when we arrived there to make it our home.  He said when you wanted to see the sun set, you would have to take a ten foot pole to stir them up with, to get a hole large enough to see it.  I was shocked for I had already felt their poisonous darts, but could not believe his story, which was very near true, as I afterwards found, for we could not even cook a meal of victuals without first making a smoke to run them off and were compelled to stay in a mosquito house, (a frame within the room with one door and this covered with netting) to live at all.  They actually killed young calves and chickens, and when men from the country came to town, they had to cover their hats with netting down to their waists, and put leggins on their legs, and gloves on their hands, and then the leggins would be all bloody on the side next the horse where they, or a part of them had been mashed to death by the legs of the rider.  When they alighted, they would have to brush all off with a bush, before entering the house.  Now, reader, don't say as I did, that must be a lie, for it is positively the truth, for I have seen and experienced this and more, as we could not walk our galleries after sundown without constantly fighting then with bushes from the trees.  I can now believe any mosquito story, and almost see and feel the presentation of their bills, which were always paid but dearly paid in blood.

We were always thankful and glad when daylight came, and when they arrived home.  Mr. McGaffey's Uncle John McGaffey gave him several lots on the bank of the Pass (from which and where large alligators, as large as a horse's body and longer, would crawl out on the bank to sun themselves, of which I was afraid, and kept my children close home) and loaned him money, so he soon had a neat little cottage home of three rooms, into which we soon moved and started a boarding house, as we were now in debt and we wished to pay up as fast as possible (for a while Mr. Mc drove a dray ready and willing to work at anything honest).  Soon after, he had a store built and went to merchandising in connection with the boarding house, and was soon able to pay up.  We did well in both departments, running boarding house nine long years, and store, until we left the place, near twenty years since.  Beside this I took in sewing and made money.

At this place six children were born to us, and we took three with us when we went to Sabine Pass.  For several years we had no Doctor at Sabine, and little need of one as a Doctor was never called on such occasions, only a nurse.  We started for Texas when our first born was six weeks old (as business compelled us to do) arriving there when she was four months old; to Sabine when our third was four weeks old, and when our eldest son was near three weeks old, invited two or three ladies to dine with us, thus celebrating his birth.  But in 1862 or 3, when the yellow fever visited our place, we needed doctors and they were there, but seemed to know little if anything about treating the patients, some getting drunk, and useless (as they were afraid of it) others not knowing what to do.  We all had it, I was the last to get up, and on the seventh day (as I had scarcely slept at all) I felt I was dying, but my brother-in-law came in and immediately gave me camphor pills until I slept, being the instrument in God's hand of my partial recovery.  This was during the War and we thought the fever would drive the enemy back, but, no, they came in by water in vessels, and although many had died, and many sick, they came, setting fire on three sides of our town, when we thought best to leave, and did so on an old flat boat at eleven o'clock at night for Weiss' Bluff above and across Sabine Lake, where we were taken by our own son-in-law for the enemy and were about to halt us by firing into us, when they discovered who we were, and towed us up to Weiss' Bluff, where we entered an old warehouse again, after driving the hogs out, and their leaving some fleas, where we lived, without a window in it for several months sometimes eating dinner by lamplight.  We could not go into a neighbor's house as they were afraid of the yellow fever.

At the Pass, we could everything good to eat, having more fish, oysters, crabs, shrimp and mullet for the catching of them, than we could use; wild geese, brant, ducks and deer meat, or fat venison, also fattest beef. Could send to Galveston every day and get supplies of all kinds we desired for we had money, and get nice supplies of fruits or any article as we had garden and having a fine orange grove at home, abundance of figs, plums and strawberries and a splendid garden, living high all the time and enjoying the labor of our hands, as well as proceeds.  I was very tired of keeping boarders, and transient ones, as our hotel was the only place for travelers to stop at.

We sent our children to good schools educating them mostly at old Sabine. We attended Methodist Church as it was the only one, and attended dancing parties (after more people settled there) once a week as the people were very social and pleasant and this was their only pastime it seemed.  We were both raised by Presbyterian parents and deacons at that, and were never allowed to see dancing let alone participating in it, and as we wished to be social we first walked and then learned to dance, of which I was very fond, and led my children there, that is the eldest ones, which I have much regretted since becoming a Christian mother.  It is much harder to undo than to do, but all our family are professors of religion now and have no desire to dance.

When we returned to Sabine Pass, we could not get our own house, but went into another half mile out of town, as the Officers were occupying ours. While there the fight took place the enemies guns scattering shot and shell thick around us, when we put most of our family in buggies and started them to a place of safety four miles out, but when they had gone only two miles, the enemy hoisted a white flag surrendering to our only forty two Irishmen in Fort, we then sent after our folks and had great rejoicing over our victory and the enemies defeat.  All during the war we had to try to be brave, look out for ourselves while our men were gone, cook for many of our soldiers, boarding some, and for the home.  The soldiers committing many depredations, stealing fruit and potatoes, which I caught a negro at, when his sack was nearly full, I made him get onto his horse (showing him the handle of a dirk which he thought was a pistol) and take them to my house telling him, "Do you see this?" which was the dirk. "I let you off this time, but, if you ever come again, you may be taken back a dead negro."  I never saw more of him.  I have often thanked the Good Lord for helping me in this way.

About 24 years since a Baptist preacher came to Sabine to hold a protracted meeting there, who had been one of our boarders, but we always thought him Methodist, and as I was attending Baptist meeting on Sunday he said he would go with me (as Mr. Mc did not like the Baptists and would not go) so thinking him a Methodist, I asked him "Shall I introduce you to the Baptist preacher", he said, "Yes, certainly, I'm a Baptist myself".  I was much surprised as I had not much love for the sect.  He was kindly received and invited by the preacher home to dinner.  The meeting went on and I got very much interested gradually believing they were New Testament disciples and that immersion which they preached was certainly taught in the New Testament.  I became anxious for Mr. Mc who was opposed to their teachings to go and hear our old friend preach.  For his sake, not mine, he went, and his text was, "He that be often reproved, shall suddenly be destroyed, and that without remedy".  He came home and would not go back, and tried to prevent me, but I continued going, and finally (although converted and belonging to the Methodist Church) after several Methodist ministers refusing to immerse me, because I had been sprinkled in infancy (without my consent) or being able or willing to put on Christ, as I read in the New Testament, "Repent, Believe and then be baptized", I was compelled to join the Baptist Church, although I had rather do this than not to follow my Saviours example and command by being immersed, after suffering much, as I knew my whole family would oppose me, I ventured to tell Mr of my decision to join their church.  Well, I will say this, I passed through fire and water on account of his bitter opposition (not dreaming he had been put under strong conviction by the afore said text "He that, etc").  Against his will, I went next day to the Sabine water to be baptized with seven others, not one of my family (unless Mrs. Keith went) would go with me except my youngest daughter who went with me because I was her Mother.  I was baptized and went home feeling relieved, but Mr. Mc was still very bitter, and laid down the law to me about associating with the hated Baptists.  I bore all patiently (as my conscience was at rest) until the next evening when I gave way, or rather tired nature, and I came very near dying, he sent for my daughter Delia who gave me restoratives and put me to bed.  Mr. Mc suffered intensely as he was under deep conviction and thought I would die that night, but God spared me again, and he says to me after being in bed sometime, "Wake up, Ma, I want to talk to you".  I says, "You want to persecute me more, I am dying, let me die in peace".  He says, "Oh you must not die, I want to tell you that I am a happy man, I believe God for Christ's sake has pardoned my sins".  I was so weak, I thought he or I one were beside ourselves, and I asked him, "If God has pardoned you, will you set up family prayer tomorrow night?"  "By the help of God I will", was his answer, and he did.  At his conversion, I was overjoyed, but when he wanted me next morning to send for all the Baptists to come to see him (little faith says to one of them, don't say one word to him about joining the Baptist Church, for he'll never do it).  He spent a pleasant time with them, telling of his conversion and setting things that had gone wrong with him, to rights, coming the next day or two after, forward, making a profession of religion and asking admittance into the Baptist Church, which was granted.  While the meeting was going on, every member of our family except one (who is now a member) joined the Baptist Church, and some of our relatives and neighbors.  Oh, what a change was wrought in our family, no more persecution, no more threats, but songs of praise unto our God, who had sustained and upheld me through such tribulation and so abundantly bless me after passing under the rod.  Glory be to his name for all his tender mercies and loving kindness unto us, and ours, Blessed be his name forever.  I have never regretted following Christ in this sacred ordinance.

I have again got ahead of my story, but memory and interruptions are the cause.

We lived at Sabine about 32 years, giving our children the best education the town afforded.  We passed through as many as ten heavy storms, the water from the Gulf of Mexico, rising and sweeping over our home place. The first, and last storm after we left there being the most destructive, and heart rending, as several lives of our old friends were lost by drowning and being washed away.  The first storm being the next year after our arrival there when the waters rose above our floors washing them loose, and drowning calves and chickens, washing our garden all away except a few tomatoes, also lumber out into the prairie, at which time a large vessel named the Tillet was wrecked below us with forty persons aboard, all coming ashore and stopping with us, as we were the only Hotel, and well I remember the poor half-starved sailors picking what tomatoes the storm had left and eating them with a good relish.  They stopt with us only a few days, when the greater part left as the storm washed away our garden, chickens, and wood.  We had a stirring time straightening and cleaning up after it, having only an old rotary cooking stove, baking our bread, or rather large batter cakes on top of the stove, having only a reflector to bake in, we found it too slow for cooking breakfast for the crowd.

The content of these pages is courtesy of Julia M Brittain, a direct descendant of Mary Tomb (McCollister) McGaffey
Return to: St. Joseph Co., MIUSGenWeb Page
This page was created 6 Feb 1998 and updated 14 Feb 1998
Design and updates of this page are by Denise Frederick / Copyright © 1998
This Page Has Been Visited

times....since since 6 Feb 1998