Autobiography of Otis McGaffey, Sr.
Written in 1905

Otis McGaffey Sen. was born in Circleville, Ohio - August 30th 1820.  The next year my Father moved & settled at Fort Ball on Sandusky river opposite Tiffin, Ohio.  In fall of 1829 my Father (Neal McGaffey) and my Uncle Joshua Gale moved to then territory of Michigan, Lewis Cass Gov; settled at White Pigeon, St Joseph Co.  In Nov 1839 Father & I started for Texas via Detroit, Cleveland, then across the state by canal to Portsmouth then to Cincinnatti & steamboat to New Orleans, then by sail vessel on the Gulf to Sabine Pass, Texas - Dec 25th 1839- My Father's brother, John McGaffey, had been living there from 1832 & his son Neal still lives on the same place. He was born in 1838 - his sister Mrs. Mary Jackson in 1840. In January 1840 Father & several others who were at the sale of lots in City of Sabine, went by land to Jasper Co. & I with a Mr. Hotchkiss of Sabine town on a steam boat up the Sabine River - Capt. Bill
Sterrett, Master, Gov Memucan Hunt & party were along to locate boundary line with United States & Texas.  Boat snagged & sunk in river between Belgrade & Sabine - we saved out baggage.  I went across to Lowe (?) Mills & went with Father - was with Dr John A (unreadable word) that year selling goods.  Father went north & brought back the family, Mother, Brother & Sister - in Jasper County.  In April 1841 I went back to Michigan & May 18th 1841 was married to Miss Mary McCollister - daughter of Deacon Chas McCollister who kept the Farmer's Inn 4 miles west of White Pigeon.  Our first child was born there, May 11th 1842 & now lives in Luling, Tex, wife of Capt K. D. Keith.  I remained in Michigan until in July 1842, then off for Texas again, in two horse wagons with wife & child - was at Michigan City some time with wife's sister, then to Chicago & got on out to Dixon with Aunt Rachel Fellows & the cousins until late in Sept; then by SB (steam boat) all aboard to St Louis; then to Natches & up Red river to Alexandria, then by land; crossed Sabine at Burr's ferry & to Father's place near Bevil Port which he had bought from Col. James (?) Armstrong while I was away.  Had for neighbors, R.C. Doom, S.H. Everitt, Bevils, (unreadable word) of old style.  In spring of 1845 Father moved to Sabine Pass to help his Brother, John McGaffey in laying off town of Sabine Pass & in Oct I moved to Sabine Pass.  In Dec 1845 the annexation of Texas to the United States was completed, in 1846 the war U.S. & Mexico, in 1861 the Civil War - in summer of 1862 Yellow fever was brought in by stranger that came in for shelter.  We all had it & my Mother, daughter of 14 Years, & son in law R. J. Parsons died with it. In Sept Federal gun boat anchored on out bar & shelled our two Cos. Com'd by Capts K. D. Keith & G. W. O Brian out of the first for near Lt house & soon after landed & set fire to D. R. Wingate Mill property & home.  In July 1863 our cotton clad steam boats went out & captured the two blockade vessels & that summer the large Fort was built & occupied by the Davy guards of 42.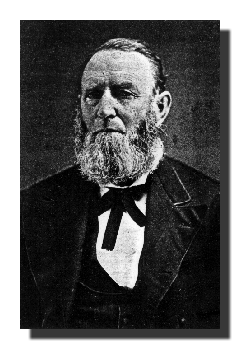 Otis McGaffey, Sr.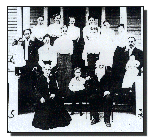 Click on this small picture and it
will take you to a large version
with complete names.
On 8th Sept 1863 Federals with several gun boats & transports with several thousand troops made an attack on it.  But retired with loss two gun boats & two or three hundred men - no loss on our side.  I was in the Marine Dept Com'd Leon Smith & Son, Wyatt in K.D.K artillery Co, part of my time with Jesse M Bell Post Qr (Quarter) Master.  The war broke up our town & prospects & in 1876 we all had moved to Luling, Tex.  In 1899 my two boys and families moved to Oak Cliff, Dallas & I came to live with son Charles. My wife died in 1896 - - -

January 27th 1906; to Houston living with my son Otis Jr. & family.  (In another handwriting "at 445 Hawthorne Ave" has been added.)

The content of this pages is courtesy of Julia M Brittain, a direct descendant of Otis McGaffey, Sr.
Many thanks for your thoughtful contribution to the St Joseph Co., MI pages!
Return to: St. Joseph County USGenWeb Page
This page was created 15 Feb 1998
Design and updates of this page are by Denise Frederick / Copyright © 1998
This Page Has Been Visited

times....since since 15 Feb 1998