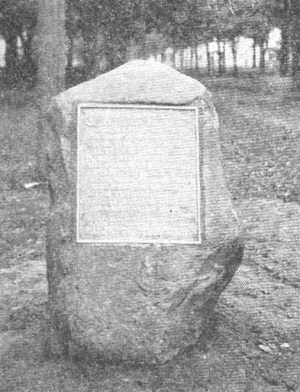 The plaque on the rock reads as follows...
"Hereabouts stood the old French Trading Post kept by Cassoway and Gibson when the
first white settlers came to Three Rivers in 1828. This post was
probably established before the Revolutionary War. The French traded
with the Indians of the St. Joseph River as early as 1680."

[top of page]
Go to St. Joseph In Homespun Index page
Go to St. Joseph Co., MI USGenWeb homepage
This page was created on 15 Sep 1998
Design and updates of this page are by Denise Frederick, Copyright © 1998
This Page Has Been Visited
times.... since 15 Sep 1998