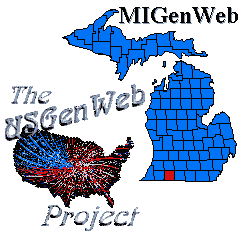 Welcome to the
St. Joseph County, MI
County Information Page
French explorers led initial exploration into this area, abundant in game with a combination of prarie and heavily wooded areas ideal for settlement. The native Potawatomi initally withstood the flood of emigration but were gradually displaced with finality in their own Trail of Tears. Northwest Territories portioned Indiana Territory which was then was divided to create a separate Michigan Territory in 1805; statehood was achieved in 1837.

First land sales began in 1818 and by 1840 most of the southern peninsula was under cultivation by settlers from New York, New England and Germany. St. Joseph County was formed in 1829 from Wayne County; its name taken from the St. Joseph River which flows through it. White Pigeon was one of the first platted towns and served as county seat until 1831 when Centerville was officially designated. In 1831 the first land office opened in White Pigeon in 1831; within three years most of the surrounding land was claimed and the office was moved to Bronson-later renamed Kalamazoo. Construction of the Chicago Road in 1835 (now US 12) and later railroads further opened St. Joseph County for settlement and industry. Ethnic heritage was perpetuated by religious tradition in early local churches; some still maintain early records of marriage and memership available for research.
Early record keeping centered in villages and churches, state law mandated registering of vital records in 1867, and achieved compliance by 1915. All of which were recorded in the county seat of Centerville.

St. Joseph County Courthouse

The St. Joseph County Courthouse houses most vital records. The 97 year old building, located in the town square of Centerville, just finished a $3.82 million renovation which included an elevator to increase accessibility to the 2nd and 3rd floors.
County Clerk

The County Clerkís office is located on the second floor of the courthouse. Records available include:

Birth records from 1867,

Death records from 1867,

Marriage records from 1832,

Divorce and Civil Court records from 1900,

Naturalization records 1854-mid 1960ís.

Research hours are: 10 a.m.-4 p.m., Tuesday through -Friday. Do not bring children, counter space is limited. A driverís license or positive ID will be requested to access records.
Contact: Patti Bender, County Clerk,
St. Joseph County Courthouse Bldg., P.O. Box 189,
125 W. Main,
Centerville, MI 49032-0189
Telephone: (616) 467-5602 / FAX: 616-467-5628

Probate Court

has probate records
Register of Deeds Office

has land records from 1830
Archives and Regional History Collections, Western Michigan University, Kalamazoo, MI.

has Circuit court, divorce and civil court records prior to 1900
To request a death record by mail, please indicate full name of deceased, actual or approximate date of death and place of death if known. Cost is $10.00 per 10 year search which will entitle you to a single certified copy of the record if found. Each additional copy of original record is $3.00. Search fee is non refundable in case of record not found. Other copy fees are $1.00 per page for court records and Naturalizations records.

All fees must be in the form of a money order, please enclose a S.A.S.E. when writing for further information.

The recently enacted Michigan public act allows states any document over 100 years of age is open for public inspection. This includes formerly restricted birth records.

[top of page]
Many thanks to Roberta G. Bell Wolfe for submitting the information located on this page.
Go to St Joseph Co., MI USGenWeb homepage
This page was created on 28 Sep 1997
Design and updates of this page are by Denise Frederick, Copyright © 1997
This Page Has Been Visited

times....since since 3 Oct 1997