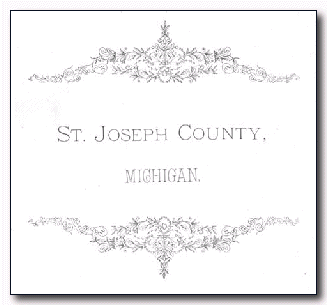 Portrait and Biographical
Album
of St Joseph County, Michigan
containing

Portraits and Biographical Sketches of Prominent
and Representative Citizens of the county,

together with
Portraits and Biographies of all the Governors of the State and,
of the Presidents of the United States
Chicago:
Chapman Brothers,
1885

The greatest of English historians, Macauley, and one of the most brilliant writers of the past century, has said: "The history of a country is best told in a record of the lives of its people." In conformity with this idea the PORTRAIT AND BIOGRAPHICAL ALBUM of this county has been prepared. Instead of going to musty records, and taking therefrom dry statistical matter that can be appreciated by but few, our corps of writers have gone to the people, the men and women who have, by their enterprise and industry, brought the county to a rank second to none among those comprising this great and noble State, and from their lips have the story of their life struggles. No more interesting or instructive matter could be presented to an intelligent public. In this volume will be found a record of many whose lives are worthy the imitation of coming generations. It tells how some, commencing life in poverty, by industry and economy have accumulate wealth. It tells how others, with limited advantages for securing an education, have become learned men and women, with an influence extending throughout the length and breadth of the land. It tells of men who have risen from the lower walks of life to eminence as statesmen, and whose names have become famous. It tells of those in every walk in life who have striven to succeed, and records how that success has usually crowned their efforts. It tells also of many, very many, who not seeking the applause of the world, have pursued "the even tenor of their way," content to have it said of them as Christ said of the woman performing a deed of mercy-"they have done what they could." It tells how that many in the pride and strength of young manhood left the plow and the anvil, the lawyer's office and the counting-room, left every trade and profession, and at their country's call went forth valiantly "to do or die," and how through their efforts the Union was restored and peace once more reigned in the land. In the life of every man and of every woman is a lesson that should not be lose upon those who follow after.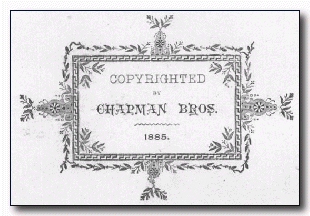 The faces of some, and biographical sketches of many, will be missed in this volume. For this the publishers are not to blame. Not having a proper conception of the work, some refused to give the information necessary to compile a sketch, which others were indifferent. Occasionally some member of the family would oppose the enterprise, and on account of such opposition the support of the interested one would be withheld. In a few instances men could never be found, though repeated calls were made at their residence or place of business.

Chicago, February, 1885

Chapman Bros.

Index of Names that are interwoven in the Biographies
Frederick I. ACHESON / Nelson H. ACHESON / Thomas ACHESON / Thomas J. ACHESON / John ADAMS Gov. ALGER / John ALVEY / Albert ANDRUS / Eliza ARNOLD / William G. BAGG Gov. BAGLEY / Charles L. BARNARD / Hannah BARNARD / Hattie E. BARNARD / Mary BARNARD / Mary E. BARNARD / Richard BARNARD / William BARNARD / Charles L. BARNARD / Hannah BARNARD / William BARNARD / Gov. John S. BARRY / Gov. BARRY / Mrs. John S. BARRY / Oldos BARRY / Oldos BARRY / Hattie E. BARRY / Col. BARTLETT / Sarah E. BASTON / Ethel BECK / Dr. James W. BECK / John J. BECK / Dougal R. BECKWITH / Edith I. BECKWITH / Eliza Ann BECKWITH / Elliott W. BECKWITH / Frank E.. BECKWITH / George A. BECKWITH / Ida BECKWITH / Jane E. BECKWITH / Levi BECKWITH / Levi BECKWITH, Sr. / Lillie S. BECKWITH / Miss Lucinda BECKWITH / Mina A. BECKWITH / Rodney BECKWITH / Rodney BECKWITH / Soloman BECKWITH / William S. BECKWITH / Miss Esther R. BENHAM / Isaac BENHAM / Alvira BIGELOW / Riley BIGELOW / BIGELOW / Joseph R. BONEBRIGHT / Lewis H. BOSSETT / Jacob BRANDAL / Mary E. BRIDEN / David BRIGGS / Helen M. BRIGGS / Lucinda BRIGGS / Clarrissa BRISTOL / Cyrus BRISTOL / Charles BROKOW Col. BROWN / George BUCK / Miss Susan S. BUCK / Geo. BURGOYNE / Anna BURNAM / Aaron BURR / Chloe CASE / Lewis CASS / George F. CATTON / Henry B. CATTON / John CATTON / Joseph B. CATTON / Mary E. CATTON / Willie CATTON / Dr. J.M. CHASE / Manford CHRISTIAN / Solomon CHONISTER / Henry S. CHURCH / Dr. William CHURCH / George D. CLARK / Jane E. CLARK / Bela H. COLGROVE / C. W. CORD / Andy CRANER / Eliza W. CROSS / Gov. CROSSWELL / Edmund CUMMINS / Elizabeth DAVIS / Alice B. DENTLER / Barbara DENTLER / Colfax B. DENTLER / Eliza DENTLER / Esther DENTLER / George DENTLER / Grant A. DENTLER / H. H. Beecher DENTLER / Jacob DENTLER / John DENTLER / Lucy DENTLER / Narber L. DENTLER / Peter DENTLER / Samuel DENTLER / Solomon L. DENTLER / Maria DENTHER / Carrie DIMMICK / Hon. Alfred L. DRIGGS / Charles E. DRIGGS / Elisha DRIGGS / George DRIGGS / Jane DRIGGS / Mary DRIGGS / Emanuel EICHOLTZ / Susannah FICKES / Henrietta L. FIELD / Harvey FIELD / Albert FISHER / Alva J. FISHER / Eliza O. FISHER / Frank FISHER / Fred FISHER / Josiah N. FISHER / Mahitable FOBES / Eliab FOBES / Albert C. FRENCH / Hon. Levi B. FRENCH / Olin FRENCH / George O. GARNSEY / Adam GENTZLER / Catherine GENTZLER / Conrad GENTZLER / Elizabeth GENTZLER / Elizabeth N. GENTZLER / Ella GENTZLER / George GENTZLER / Jacob GENTZLER / Jacob L. GENTZLER / John GENTZLER / John R. GENTZLER / Margaret GENTZLER / Martin GENTZLER / Mary Ann GENTZLER / Mary E. GENTZLER / Philip GENTZLER / Sarah A. GENTZLER / Susan GENTZLER / William GENTZLER / Rev. S. GEORGE / Benjamin O. GLADDING / Emily E. GLADDING / John L. H. GLADDING / John P. GLADDING / Mary J. GLADDING / Timothy GLADDING / Andrew J. GRAHAM / Ann GRAHAM / Elizabeth GREENLEE / Suzanna GOOD / Phineas HANGENBUCH / E. A. HAMILTON / George W. HAMILTON / Catherine HASSENGER / Tobias HASSENGER / Frances HAYLOCK / Morris HAYMAN / Mary HERSEY / Col. Araunab HIBBARD / Emily M. HIBBARD / Andrew HICKS / Mr. HILL / Col. HILL / Horace P. HITCHCOCK / Emma HITCHCOCK / Samuel E. HOTCHIN / Martha HOTCHIN / Martha Emily HOWARD / John HOWARD / Ann E. HOWLAND / Humphrey HOWLAND / John M. HUFFMAN / Ada HUFFMAN / Charles HUFFMAN / Dorsey HUFFMAN / Effie HUFFMAN / Margaret HUFFMAN / Samuel HUFFMAN / Thomas JEFFERSON / Dr. William E. JEWETT / Thankful JOHNSON / William JOHNSON / James JONES / Miss Mary JONES / Mercy JONES / Polly JONES / Charity JUMP / Elijah JUMP / Jane JUMP / Leonard KAPP / Thomas J. KEENE / Chancy KETCHUM / Henry P. KETCHUM / Henry Porter KETCHUM / Isaac KETCHUM / Cynthia KIDDER / Esther KING / Mr. KING / Mr. KING / John KINGMAN / KITTRIDGE / C.H. LAKE / William LAIRD / Anna M. LAMY / Margaret LAW / John LEHMER / Miss Lydia A. LEHMER / Amanda LEWIS / Amanda Sophia LEWIS / Ansel LEWIS / Daniel LEWIS / Eliza Ann LEWIS / Jesse LEWIS / Margaret LEWIS / Mary Jane LEWIS / Rachael LEWIS / Sarah LEWIS / G. LEWIS / Henry LIMBACH / Helen L. LOHOFF / John LOHOFF / John LOHOFF, Sr. / Martha A. LOHOFF / Patty LOOMIS / John MARTIN / Estella May MARVIN / Clifton MARVIN / Anna McGILL / Elizabeth MILLER / Thomas MITCHELL / Bertha MINER / Hon. Otis MOE / MOORE & PROTZMAN / Elizabeth MOWERER / Elizabeth A. NARBER / Jacob H. NARBER / Miss Mima NAYLOR / Thomas NAYLOR / Benjamin PACKARD / Charles PACKARD / Deborah PACKARD / Deliverance PACKARD / DeliverancePACKARD / Elijah PACKARD / Elizabeth PACKARD / Elizabeth PACKARD / Emily M. PACKARD / Faithful PACKARD / Fearnot PACKARD / Frank S. PACKARD / Frank I. PACKARD / Frank PACKARD / Frank PACKARD / George PACKARD / Gertrude A. PACKARD / Hannah PACKARD / Hannah PACKARD / Homer PACKARD / Ira F. PACKARD / Israel PACKARD / James J. PACKARD / Joel PACKARD / John PACKARD / Luch PACKARD / Lucina M. PACKARD / LucindaPACKARD / Lydia PACKARD / Lyman PACKARD / Margaret PACKARD / Mary PACKARD / Mary PACKARD / Nathaniel PACKARD / Nelson PACKARD / Samuel PACKARD / Samuel PACKARD / Samuel PACKARD / Sarah PACKARD / Silas PACKARD / ThomasPACKARD / Zachariah PACKARD / Zaccheus PACKARD / Arethusa PALMER / Esther PALMER / Senator Thomas W. PALMER / Frances M. PEASE / Elizabeth PERRIN / Israel PUTNAM / S. D. RADLEY / Rev. D. H. REITER / John RHEIM / John RICHMOND / Mrs. Louisa RICHMOND / Minnie R. RICHMOND / Maj. Robert ROGERS / Aaron ROOT / Aaron C. ROOT / Charles O. ROOT / Clarissa A. ROOT / Henry ROOT / Henry E. ROOT / Henry E. ROOT, Jr. / Henry L. ROOT / Mary L. ROOT / Colonel Oliver ROOT / Samuel ROOT / Eliza Ann ROTE / Solomon ROTE / John SCHERMERHORN / B. H. SEVISON / Burnam H. SEVISON / Eliot SEVISON / Florence A. SEVISON / Fremont SEVISON / George E. SEVISON / Grant SEVISON / Henry SEVISON / Henry SEVISON, Sr. / Jesse A. SEVISON / Luther J. SEVISON / Mary E. SEVISON / Martha SEVISON / Henry SEVISON / William Joseph SNELL / Elius SHELLEY / Mrs. Elmira SHELLENBERGER / Thomas SHIPLEY / Lutie SIMMONS / Ruth SIMMONS / William SIMMONS / Isaac W. SPRAGUE / Elizabeth SPECK / Lucinda STARKWEATHER / Lucinda STARKWEATHER / Gen. John START / Charles STEAR / Fannie STEAR / Frank STEAR / George STEAR / Hattie STEAR / Lizzie STEAR / Maria STEAR / Mary A. STEAR / Robert H. STEAR / Susie STEAR / William STEAR / W. H. STEARS / Peter STICKLE / Sarah C. STILLMAN / Richard STOKES / George STRAYER / Polly STRAYER / Emanuel STROME / John TALBOT / Rebecca THOMPSON / Lizzie A. TOBY / Erastus TRACY / James TRACY / John TRACY / Lavina Tracy / Levi TRACY / Louisa TRACY / Martha TRACY / Mary TRACY / Romelia TRACY / Walter B. TRACY / Emma TROY / Frank Sherman UPHAM / Nelson UPHAM / Hon. Charles UPTON / Frank VALENTINE / Joseph VALENTINE / Leonard VALENTINE / Maude VALENTINE / Samuel VALENTINE / Sarah VALENTINE / Steven VICKORY / John WAIET / Josiah WAIET / Ralph D. WAIET / Richard WAIET / Thomas WAIET / Arthur H. WAIT / Daniel G. WAIT / Frank W. WAIT / Gay G. WAIT / George WAIT / Henry WAIT / J.G. WAIT / Jessie WAIT / Hon. Jonathan G. WAIT / Josiah WAIT / Lee E. WAIT / Thaddeus P. WAIT / William H.H. WAIT / Dr. WAITE / Mary E. WAITE / Henry W. WARREN / George WASHINGTON / Capt. I.C. WELLER / Antoinette WELLS / Fanny H. WELLS / Franklin WELLS / Franklin WELLS, Jr. / Helen M. WELLS / Hon. Hezekiah G. WELLS / Louise S. WELLS / Jeanette WELLS / Jesse WELLS / Joseph WELLS / Mary B. WELLS / Willis WELLS / Martha WHITED / Charles E. WILBUR / Mary WILDER / Joshua WILDER / William the Conqueror / Martha WILEMIN / WYMAN / Ada C. YODER

The entries below are new as of 29 May 2000:
John E. ADAMS / Samuel AMESS / Charles AHLGRIM / William W. BATES / John BAUMEISTER / Silas W. BENNETT / Joseph A. BROOKS / John BOTZNER / Benjamin F. BUTLER / Sidney CARPENTER / Charles H. CATTELL / Charles J. CLOWES / Corydon CROOKS / Abner DAVIS / Hiram DRAPER / Henry DRIESBACH / James ENGLE / Phineas FARRAND / Hon. Nelson FERRIS / Ozias F. FRENCH / A.M. GRAHAM / Luther GRAVES / Henry W. LAIRD / James E. SEAVER / James O. SMITH / Joseph C. STOWELL / Abner Van VORST / E. C. WELLESLEY

The entries below are new as of 9 Jul 2000:
Thomas CUDDY / John RUTHERFORD / Stephen M. SNYDER / Stephen SHOWERMAN / Jesse NERHOOT

The entries below were added 28 Oct 2000:
George BOYLES / Gideon SANBORN / Leonard BUTZ / John DUNLAP / Jay J. STANTON / AR. HINCHER / William H. WELLS / William REITERMAN / Howard HOPKINS / Ransom CRAW / Stephen M. NASH / Harvey K. FIELD / Stephen W. GILKISON / John R. GENTZLER/ Hon. William MORRIS / SV. CORNELL / Mary (GOODGER) BRAGINTON / John J. STEARS / William H. ROYS / John C. KINNE / Thomas STEARS / Reuben STOUT / Dr. Harvey LOOMIS / Edward GRAY / Thomas REDFEARN / George DICKINSON / Samuel EARLY / W. W. TEAL / Levi C. RIFENBERGH / William H. CASTLE / Judge William CONNOR / William M. WATKINS / Elon OLNEY / George M. SIDES / William HINKLE / John W. HARRISON / George W. SPALSBURY, M.D. / Robert S. GRIFFITH / Josias SIMPSON / Matthias BECKER PUTNAM / Samuel KLADY/ William H. STEARS / Ethan B. PIPER / William BELLAIRS / Joseph BROWN / Jonathan A. HARTZLER / James JOHNSON / Orsamus C. M. BATES / John TROST / James W. WOOD and Joseph RUSSELL

INTRODUCTORY
The time has arrived when it becomes the duty of the people of this county to perpetuate the names of their pioneers, to furnish a record of their early settlement, and relate the story of their progress. The civilization of our day, the enlightenment of the age and the duty that men of the present time owe to their ancestors, to themselves and to their posterity, demand that a record of their lives and deeds should be made. In biographical history is found a power to instruct man be precedent, to enliven the mental faculties, and to waft down the river of time a safe vessel in which the names and actions of the people who contributed to raise this country from its primitive state may be preserved. Surely and rapidly the great and aged men, who in their prime entered the wilderness and claimed the virgin soil as their heritage, are passing to their graves. The number remaining who can relate the incidents of the first days of settlement is becoming small indeed, so that an actual necessity exists for the collection and preservation of events without delay, before all the early settlers are cut down by the scythe of Time.
To be forgotten has been the great dread of mankind from remotest ages. All will be forgotten soon enough, in spite of their best works and the most earnest efforts of their friends to preserve the memory of their lives. The means employed to prevent oblivion and to perpetuate their memory has been in proportion to the amount of intelligence they possessed. The pyramids of Egypt were built to perpetuate the names and deed of their great rulers. The exhumations made by the archeologists of Egypt from buried Memphis indicate a desire of those people to perpetuate the memory of their achievements. The erection of the great obelisks were for the same purpose. Coming down to a later period, we find the Greeks and Romans erecting mausoleums and monuments, and carving out statues to chronicle their great achievements and carry them down the ages. It is also evident that the Mound-builders, in piling up their great mounds of earth, had but this idea-to leave something to show that they had lived. All these works, though many of them costly in the extreme, give but a faint idea of the lives and characters of those whose memory they were intended to perpetuate, and scarcely anything of the masses of the people that then lived. The great pyramids and some of the obelisks remain objects only of curiosity; the mausoleums, monuments and statues are crumbling into dust.
It was left to modern ages to establish an intelligent, undecaying, immutable method of perpetuating a full history-immutable in that it is almost unlimited in extent and perpetual in its action; and this is through the art of printing.
To the present generation, however, we are indebted for the introduction of the admirable system of local biography. By this system every man, though he has not achieved what the world calls greatness, has the means to perpetuate his life, his history, through the coming ages.
The scythe of Time cuts down all; nothing of the physical man is left. The monument which his children or friends may erect to his memory in the cemetery will crumble into dust and pass away; but his life, his achievements, the work he has accomplished, which otherwise would be forgotten, is perpetuated by a record of this kind.
To preserve the lineaments of our companions we engrave their portraits, for the same reason we collect the attainable facts of their history. Nor do we think it necessary, as we speak only truth of them, to wait until they are dead, or until those who know them are gone; to do this we are ashamed only to publish to the world the history of those whose lives are unworthy of public record.

[top of page]
Go to St Joseph Co., MI USGenWeb homepage
This page was updated on 29 Jan 2001
Design and updates of this page are by Denise (Beckwith) Frederick, Copyright © 1998-2001
This Page Has Been Visited

times....since since 7 Jun 1998
A very special 'Thank You' goes to Josie Garzelloni and Carole L. (Maudie) Carr for their contribution of St. Joseph Co., MI information and transcription efforts for this huge body of work