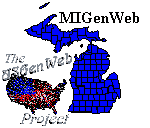 Welcome To The
St. Joseph County, Michigan
Lookup page!
If you own any St. Joseph County books or have other resources at your disposal and will do look-ups, please let Denise Frederick know. As you can see, volunteers are needed!!

Feel free to request a look-up from the following resources. Just click on the highlighted email address and insert the appropriate Title in the subject line.

If you request a lookup, please 'thank' your volunteer for their time.

The Fair Use copyright policy allows our lookup volunteers to do minimal Look ups on copyrighted publications. Please don't abuse this privilege by asking for more. If you find that a publication has more information than a Look-up can provide, your local bookstore should be able to order the book for you.

Either Ardis or Chris would look up a specific incident if the name and date of event is known. The film numbers are: 0069221 and 0069222 and they are rented under the name of Ardis Pierce at the LDS Family History Center, 1112 N. Drake Rd., Kalamazoo, MI. Anyone can look at these films if they would like to, while they are still on loan.

If you have a source that you could offer a look-up in, please let me know and I'll add your information to this list. Contact: Denise Frederick

I would like to thank each and every one of our look-up volunteers, for without them, this website wouldn't be as complete as it is...thanks!

[top of page]
Return to: St. Joseph County, MI USGenWeb homepage
This page was last updated 14 Mar 2003
Design and updates of this page are by Denise Frederick , Copyright © 1997-2001
This Page Has Been Visited times.... since 8 March 1997