*St. Joseph County Surnames*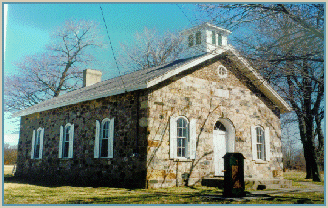 The stone schoolhouse in Nottawa, MI
Welcome To The
St. Joseph Co., Mi. Surname page!
The surnames that you will be accessing from this page are surnames that were posted BEFORE 21 Jul 1998. All surnames that are posted under the new GenConnect system will automatically be posted. To view the OLD surname lists, click on the appropriate link below.

From this page you'll be able to go to the surnames for St. Joseph County that have
been submitted by people doing research. At this point, they are
listed on TWO separate pages. A-L and M-Z. Please click
on the correct link to go to these surnames.
Click on this link to go to the A-L surnames. Click on this link to go to the M-Z surnames.

[top of page]
Return to: St. Joseph County USGenWeb Page
Go to: St. Joseph County Histories Homepage

This page was last updated 25 Jul 1998
Design and updates of this page are by Denise Frederick, Copyright © 1996/97/98
This Page Has Been Visited
times....since 5 November 1996